Heavy Duty Locking Cam Bolt Kit GM LSx V8 Engine Camshaft LS1 LS6 LS2 LS7 LS9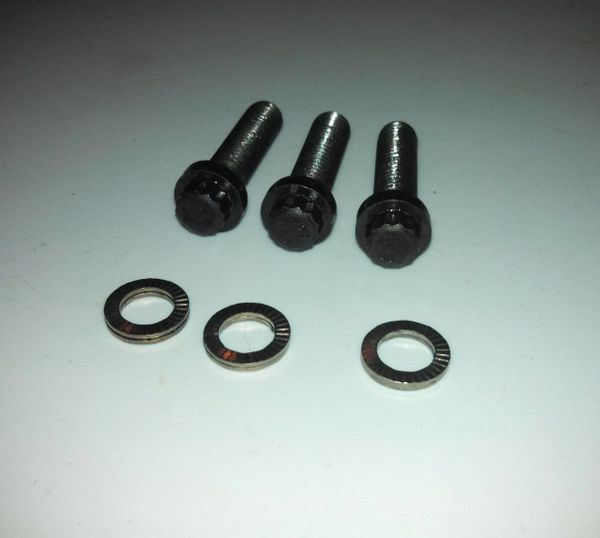 Heavy Duty Locking Cam Bolt Kit GM LSx V8 Engine Camshaft LS1 LS6 LS2 LS7 LS9
Heavy Duty GM LSx Engine Locking Cam Bolt Kit
Eliminates The Risk Of the Timing Gear Bolts Backing Out
PRODUCT DESCRIPTION:
The Product & Service Solutions heavy duty GM LSx engine locking cam bolt kit is designed to eliminate the chances of the camshaft bolts backing out on GM Gen III & IV V8 engines using three bolt camshafts (LS1, LS6, LS2, LS7, LS9, etc.). Under high RPM and high vibration conditions the timing gear bolts on the camshaft will sometimes back out, providing a durability concern. This kit includes three high quality, high strength 12 point flange head Class 12.9 M8-1.25x30mm bolts, three Nord-Lock locking washers and instructions. The 30mm length also provides the full recommended thread engagement ratio.With the thickness of the timing gear and the lead in threads on the camshaft bolt holes and on the camshaft bolts themselves, the stock bolt length is marginal for proper recommended thread engagement (minimum 2.5 times the bolt diameter).
Product highlights:
12 point Class 12.9 flange head fasteners

Minimum tensile strength 170KSI
Full 30 mm thread length

Includes the ultimate fastener locking device > Nord-Lock locking washers
Required tools:
· Torque wrench
· 8mm 12 point socket
Optional tools:
· M8-1.25 tap (bottoming tap preferred)
Note:
Only for use with three bolt camshafts and timing gears. Will not work with newer single bolt camshafts.
Not for use with OEM stock camshafts without checking and tapping the camshaft timing gear bolt holes as needed. On the OEM camshafts the camshaft timing gear bolt holes are not always threaded all the way.
Reviews