Tesla/VariMax BLDC electric water circulation pump for turbo, supercharger, intercooler & battery cooling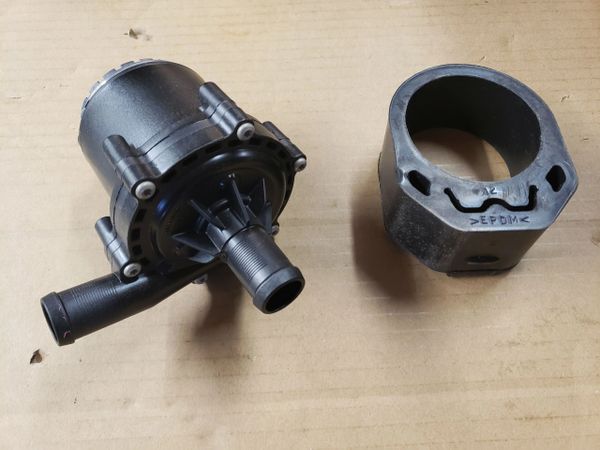 Tesla/VariMax BLDC electric water circulation pump for turbo, supercharger, intercooler & battery cooling
High Flow Electric Coolant Fluid Circulation Pump
For Intercooler, Battery & Aux Heat Circulation
OEM Tesla battery coolant circulation pump
Tesla part #: 
Also sold as the VariMax pump, TAFX410110 pump, Lingenfelter L330030709 and others. Also used in Magnuson, Edelbrock and Whipple supercharger kits.
Description:
The VariMax brushless DC fluid pump is ideally suited for use as an intercooler circulation pump but can also be used as a coolant circulation pump for many other applications including battery cooling, secondary engine cooling, retained heat/cabin heating etc. 
The pump
 features a motor with a 3 phase inner rotor design that protects itself against over and under voltage, over temperature and over current conditions. The integrated pump controller provides soft-start pump control, eliminating pump start up current spikes.

The control strategy of the VariMax pump allows it be to wired to operate either at full speed (full flow) all the time with no external control required or it can also be speed controlled by a PWM signal from an external device.
The VariMax weighs less than 570 grams and features software that provides pump speed and warning or fault codes.

 
The VariMax pump flows 25% more than the common Bosch intercooler pump and flows the same as the stock ZL1 Camaro intercooler pump when tested in the stock ZL1 intercooler and intercooler radiator circuit.

 When comparing flow rates be sure to look at what pressure the pump is rated for that flow. Many pumps that companies claim to flow more than this pump actually flow less once you look at the flow rate for the same pressure value (restriction level).
Specifications:
Rated f

low: 720 LPH @ 70 kPa

Inlet / Outlet connection: 19 mm hose barb (3/4")

Motor syle: DC brushless (BLDC)

Operating voltage: 8-16 VDC

Maximum amp draw: 7.3 Amp
Includes:
Pump

Rubber isolation mount
Reviews