Lingenfelter LNC-2001 2-step timing retard ZR1 Corvette, ZL1 Camaro & CTS-V (LS9 LSA)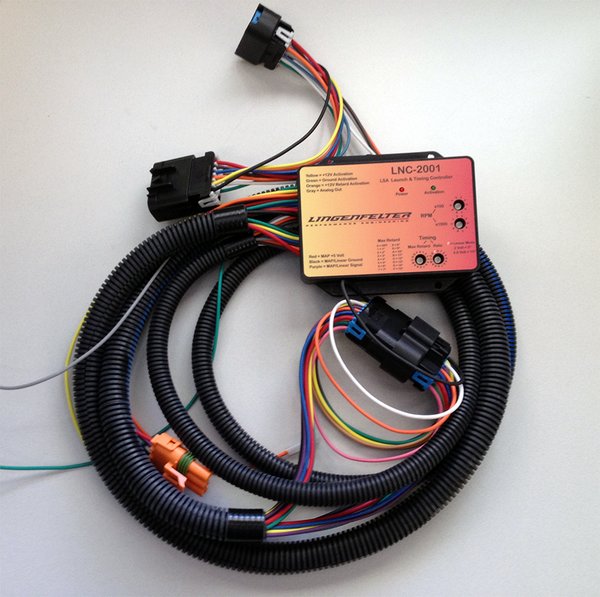 Lingenfelter LNC-2001 2-step timing retard ZR1 Corvette, ZL1 Camaro & CTS-V (LS9 LSA)
Lingenfelter LNC-2001 2-step with timing retard
For LSA and LS9 GM Gen IV Small Block V8 Engines
Description:
The LNC-2001 is the same as the LNC-2000 but with different coil pack connectors to allow it to be connected to the LSA and LS9 engines.
Sometimes referred to as a 2-step or launch controller, the LNC-2001 adjustable RPM limiter and timing retard controller can be used to provide consistent launch RPM off the line in drag racing and other standing start racing applications. In turbocharged applications the LNC-2001 can also be used to retard the timing in order to build more boost at the line.
The LNC-2001 can also be used as an adjustable individual cylinder RPM limiter, providing reliable and fast acting spark based engine RPM limit control. This is especially useful in vehicles that have auxiliary fuel control systems where it is not possible to make sure that both the factory ECM/PCM and the auxiliary systems both turn off fuel at exactly the same time. If the two don't completely cut fuel at the same time you will run lean when the one system cuts off the injectors (but not the other), risking severe engine damage.
The Timing Retard capabilities of the LNC-2001 can be used to retard timing by up to 15 degrees. For nitrous oxide applications the timing retard can be activated using the dedicated timing retard activation input to the LNC-2001. This dedicated timing retard activation input can be activated using many different methods including clutch or accelerator pedal position via a micro switch or the Lingenfelter CTAP-001 clutch and throttle activation position switch (PN: L460190108). The LNC-2001's timing retard activation input can also be activated via a +12v activation signal from a nitrous controller, such as the Lingenfelter NCC-001 or NCC-002. When used in conjunction with the NCC nitrous controller, the LNC-2001 also allows progressive timing retard tied to the nitrous percentage.
In turbocharged and supercharged engines the amount of retard can be controlled by the boost level using the 3 bar MAP sensor input. The LNC-2001 can also be used to retard the timing at the line to build boost in turbocharged vehicle applications (with or without the launch control RPM active). The Timing Retard function can be used by itself or while the Launch Control RPM limit function is active.
Mfg. Part #: L460216509
Included in the LNC-2001 kit are the following items:
| | | |
| --- | --- | --- |
| Quantity | Part Number | Description |
| 1 | LNC-2001 | Launch controller with timing retard feature |
| 1 | | 72" trigger wire harness |
| 2 | | Hook & loop tape, 3.5" length |
| 4 | AV16037 | Self-tapping screw |
| 3 | L450080000 | Transient voltage suppression (TVS) diode kit |
| 1 | L950050000 | LPE technician's screwdriver |
| 2 | L920180000 | LPE bumper sticker |
| 1 | | Instructions |
Specifications:
Custom molded high temperature glass filled Nylon 6 enclosure with direct access to the controller settings without requiring removal of a cover or access panel

40 MHz 16-bit automotive qualified processor with eight channel Enhanced Time Module

Each coil drive circuit has a dedicated timer to keep the timing accurate over the full RPM range

Independent coil drive provides Sequential Ignition Kill when RPM limiting is active

Reverse battery protection

Both of the activation inputs have active clamps and optical isolation to suppress electrical noise from external solenoids (such as trans brake and line lock)

Digital noise filtering to isolate the LNC from unwanted electrical signals

Separate RPM x100, RPM x1000, Max Retard and Rate switches for easy setting adjustments

RPM limiter activation point can be adjusted from 1,500 to 9,900 RPM in 100 RPM increments

Both Ground Activation and +12 Volt Activation inputs are provided for RPM limit activation

Timing retard capability with up to 15 degrees of timing retard authority

Dedicated timing retard trigger input wire (for nitrous activation or other timing retard activation).

GM 3 bar manifold air pressure (MAP) sensor connector for boost based timing retard function

Analog input for timing retard control from external modules:

Accepts analog voltage signal from NCC-001 & NCC-002 nitrous controllers to allow progressive timing retard

Interfaces with Davis Technologies traction control module

Analog voltage output wire for sending timing retard information to data acquisition systems (EFILive, HPTuners, DashDAQ, etc.)

True plug-and-play coil pack connection design for ease of installation and removal

Fully encapsulated (potted) construction for added durability

One year warranty (from date of purchase).
Vehicle applications:
The LNC-2001 is designed for use on specific GM engines with the combined coil and injector harness connectors. This includes the LSA and LS9 engines found in the following vehicles:
2009-2013 C6 ZR1 Corvette (LS9 egine)

2012-2014 ZL1 Camaro (LSA engine)

2009-2014 Cadillac CTS-V (LSA engine)

GMPP LSA and LS9 crate engines
The LNC-2001 should also function with these products but has not yet been tested with them:
Aftermarket coils for the LS series engines (such as the MSD coils) used with GM ECM/PCM.

Aftermarket engine management systems and ignition systems (Accel, BigStuff3, Motec, FAST, MSD, etc.) that run the production GM coils.
NOTE:
The LNC-2001 will NOT work with other individual coil ignition systems like those found on the GM Northstar or Ecotec engines or on the Ford modular V8 and the Chrylser Hemi V8.
Notes:
Although launch controllers like the LNC-2001 are often referred to as 2-step controllers, they are not true 2-step controllers. A 2-step has a high and a low RPM limit function with a switch of some type enabling one setting or the other. The LNC-2001 only has one RPM limit setting so if you are using the LNC-2001 as a launch control RPM limiter, you will need to use the factory ECM/PCM as the engine maximum RPM limiter engine speed governor.

The RPM limiter function of the LNC-2001 acts by disabling spark to individual cylinders and not fuel like most production RPM limiters so the 2-Step/Launch Control function is not meant for use on the street or for use on cars equipped with catalytic converters. The 2-Step/Launch Control function of the LNC-2001 is only for use at the race track on race vehicles not equipped with catalysts. Failure to follow these precautions can result in premature catalyst failure. DO NOT operate the engine with the LNC-2001 RPM limit active for extended periods of time. Due to the raw fuel in the exhaust when the RPM limit is active, a risk of backfiring exists if you do so.
Link to product instructions (with example wiring diagrams included).
Warranty:
1 year manufacturer warranty (see warranty statement in instruction manual available above for download)
Reviews