Lingenfelter CTAP-001 clutch throttle position sensor TPS or MAP activation switch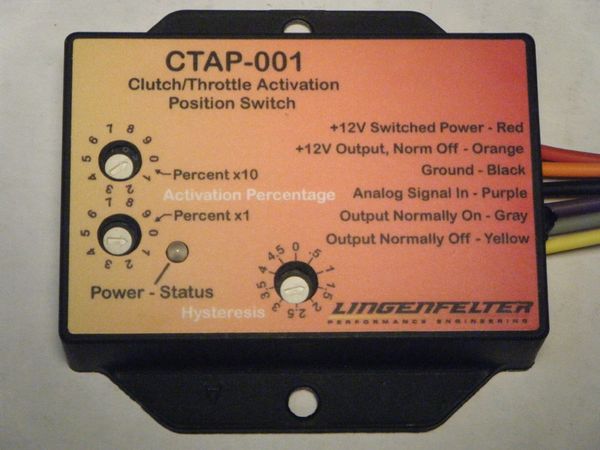 Lingenfelter CTAP-001 clutch throttle position sensor TPS or MAP activation switch
LINGENFELTER CLUTCH & THROTTLE POSITION ACTIVATION SWITCH CTAP-001
Description:

The CTAP-001 is a programmable clutch pedal and throttle position sensor activation switch. This module can be used on many newer GM vehicles that no longer use a clutch position switch, but instead a position sensor that relays a rising or falling 0-5 volt sensor signal to the ECM. This signal communicates the exact clutch pedal position, accelerator pedal position, or throttle position. The CTAP-001 allows external devices looking for a +12 volt or ground activation signal like a nitrous controller, 2-step, or other devices to be used on vehicles that would not normally have a switched signal available.

Features:
• Connects to clutch pedal (CPP), accelerator pedal (APP), throttle position (TPS) sensor or most other 0-5 volt sensors
• Outputs include
• Normally OFF ground activation
• Normally ON ground activation
• Normally OFF +12vdc activation

Benefits:
• No need to install a separate microswitch on the clutch pedal
• Works with rising or falling voltage signals
• Activate/deactivate anywhere in the clutch or throttle travel
• Adjustable activation point in 1% increments
Specifications:
Available output types:

Normally OFF +12vdc

Normally ON ground

Normally OFF ground

Analog 0-5 volt input that can accept a Throttle Position Sensor (TPS), Clutch Pedal Position (CPP) sensor, Accelerator Pedal Position (APP) sensor, or most any other rising or falling 0-5 volt signal.

CTAP-001 switch settings can be adjusted in 1% increments from 0% to 99%.

Adjustable hysteresis settings of 0%, 0.5%, 1%, 1.5%, 2%, 2.5%, 3%, 3.5%, 4%, and 4.5%

Custom molded high temperature glass filled Nylon 6 enclosure.

Fully encapsulated (potted) construction for increased durability.

Outputs rated for up to 0.75 amps each.

The CTAP-001 outputs should control a relay for higher current level applications.

All three outputs (+12v activation normally OFF, GROUND activation normally ON and OFF) can be used simultaneously.

Outputs have a self-protect feature and will turn OFF in case of a direct short or over current condition.

Operating voltage range: 9.0 to 18.0 volts.

Input signal impedance: 100k ohms.

Current draw: 0.1 amp plus current draw of device being controlled (when active).

90 day warranty (from date of purchase).
Mfg. Part #: L460190108
Link to product instructions (with example wiring diagrams included).
What is included in the kit:
| | | |
| --- | --- | --- |
| Quantity | Part Number | Description |
| 1 | CTAP-001 | Clutch and Throttle Activation Position Switch Module |
| 2 | AV16037 | Self-tapping screws |
| 2 | | Hook and loop tape |
| 1 | 14803510 | Connector, AMP Mate-N-Lock, Male, one position |
| 1 | 60620-1 | Connector, AMP Mate-N-Lock Pin, 20-14 AWG |
| 1 | | Instructions |
Warranty:
90 day manufacturer warranty (see warranty statement in instruction manual available above for download)
Reviews