LINGENFELTER CADILLAC CTS-V SUPERCHARGER PULLEY & AIR INTAKE KIT, 2009-2015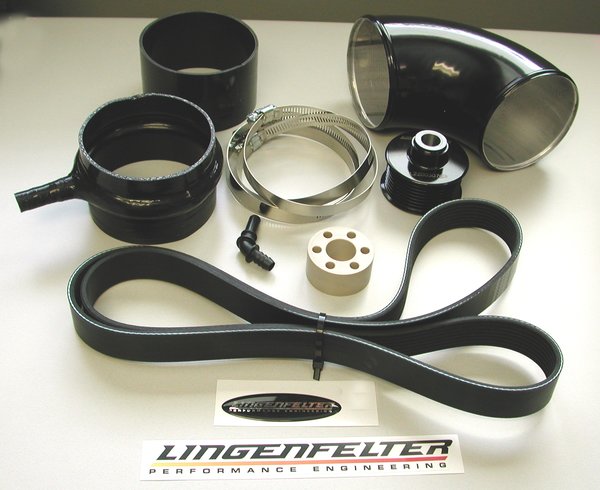 LINGENFELTER CADILLAC CTS-V SUPERCHARGER PULLEY & AIR INTAKE KIT, 2009-2015
The Lingenfelter supercharger pulley upgrade kit is designed to enhance the power of the LSA Cadillac CTS-V supercharged engine. This upgrade kit produces excellent horsepower and torque improvements over the factory 556 horsepower and 551 lbs ft of torque while maintaining a safe level of boost and supercharger RPM. Testing at Lingenfelter has shown 630 BHP and 630 lbs ft of torque with the Lingenfelter pulley upgrade kit installed (see chassis dyno example performance).
Installation of the kit does require ECM reprogramming.
The Lingenfelter CTSV pulley kit raises boost on a stock engine 3-4 psi.


Parts List
# Part number Description
1 8PK1655 8 rib 1655mm belt
1 ETN307091 Pulley Cap
1 82180 Permatex Ultra Black Gasket Maker, 3.35 oz.
1 L220030709 2.55" 8 rib pulley
1 L650140709 2009-2015 CTS-V air inlet duct kit
1 L960202012 Solid SC isolator coupling
2 ETN337144 Supercharger cover alignment dowel pin
1 98381A510 3/16" x 1" dowel pin
1 L920030000 LPE premium fuel decal, 93 octane
1 L450110095 LPE diagnostic port cover kit
1 L920010000 LPE decal
1 ETN86063 Actuator set tool
1 Instructions
Click here for a link to the product installation instructions.
Reviews