Lifters and Lifter Guides for GM LSx engines, Complete Engine Set (16 and 4)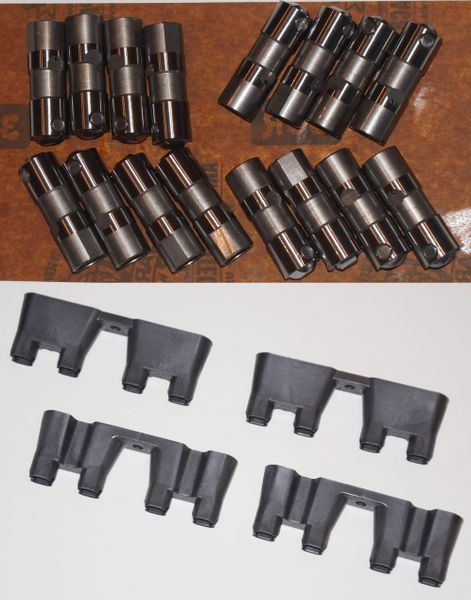 Lifters and Lifter Guides for GM LSx engines, Complete Engine Set (16 and 4)
Complete Set of 16 Lifters and 4 Lifter Guides
Fits: LS1, LS6, LS2, LS3, LS7 & other GM Gen III, IV & V V8 Engines
Description:
Complete engine set

Set of four (4) lifter guides and sixteen (16) LS7/GMPP style lifters

Also fits Gen III blocks/engines (LS1, LS6, LQ4 and other rear camshaft position sensor engines etc.)
Manufacturer:
Lifters made by

OEM supplier General Motors Components Holdings (formerly Delphi)
Lifter cross reference:
These are same as the GMPP and LS7 lifters except that they are purchased in bulk so the are not individually boxed

Equivalent to GM part number 17122490 (ACDelco part # HL124).

GMPP part number 12499225 is just 16 of part # 17122490 packaged into a set of 16 pieces

Also compatible with GM part number 12576400 (HL128).
Lifter guide part #: 12595365
Condition:
Parts are brand new from bulk packaging (not individually packaged)
Only includes what is shown.

Other components may also be needed. Other NOT included parts you may need, depending on your application, could include:

Valley tray
Head bolts
Head gaskets
Camshaft
Timing gear (depending on camshaft type)
Timing chain damper
Water pump, timing cover and other related gaskets
ECM calibration
If you need just the lifters or just the lifter trays/buckets, we also have them listed elsewhere in our store.
Reviews