E5LM TI Automotive brushless BLDC high flow fuel pump, horizontal 90 degree outlet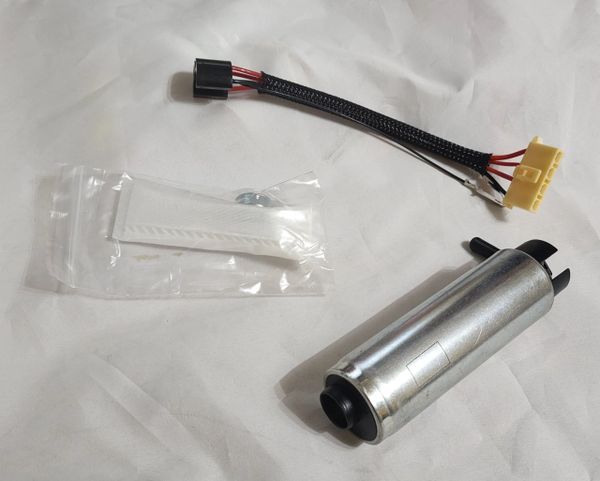 E5LM TI Automotive brushless BLDC high flow fuel pump, horizontal 90 degree outlet
E5LM TI Automotive brushless BLDC fuel pump - horizontal (90 degree) outlet configuration (see images)
High flow, high pressure capable BLDC screw pump. Sometimes called the Bugatti or Veyron pump.

450 lph (120 gph) at 4 bar (58 psi) and 12V.

Capable of higher flow at voltages above 12V (see example voltage image in flow rate graphs)

Flow rate also depends on BLDC controller current limits and motor speed limits.

Ethanol/E85 compatible

Capable of operating at up to 10 bar/150 psi

Does not have a built in check valve. Must be installed after the pump if needed (not included).

Designed for in-tank mounting.
Includes pump, harness and inlet filter sock. 
DOES NOT INCLUDE BLDC fuel pump controller (required). Contact us if you need assistance with a compatible BLDC fuel pump controller.
Other fuel inlet filter socks are available from several companies including Radium Engineering if you need a different shape inlet filter. Radium also offers a check valve outlet fitting and a -6AN adapter fitting for this pump.
No warranty on fuel pumps. They can be returned un-used but once a pump has been used it can no longer be returned.
NOTE - this is a brushless DC (BLDC) pump. You MUST have a BLDC pump controller designed to work with this pump or it will not operate properly. It will not work without a BLDC pump controller. Fuelab, Torqbyte, TI Auto and others offer pump controllers compatible with these pumps. Also compatible with many OEM BLDC controllers including the 2009-2013 ZR1 Corvette Hella controller.
Reviews