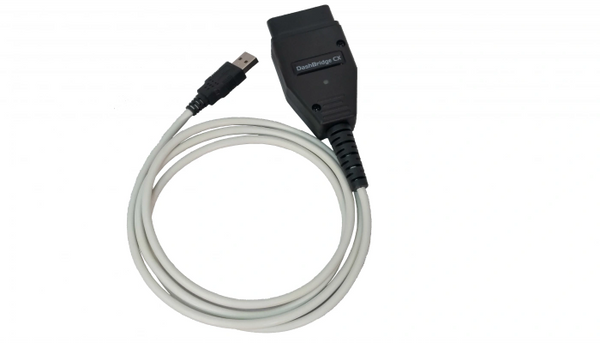 DashBridge CX
DashBridge CX is a high performance CAN vehicle network interface for professionals and enthusiasts. DashBridge CX brings dealer level capabilities including diagnostics, module programming/reflashing, fleet telematics, data logging, and much more into the reach of everyone. DashBridge CX provides a powerful J2534 PassThru API that enables factory/OE capabilities as well as custom CAN bus communications.

DashBridge CX meets the latest standards, including ISO 15765, ISO 14229, ISO 11898, and others, for protocol performance and bus communications. DashBridge CX does not rely on outdated or
obsolete chips in order to implement vehicle bus communications. Instead it utilizes circuit and chip technology developed in-house featuring a sleek sophisticated design using premium components.
Works with GM/AC Delco TDS for diagnostics and vehicle reprogramming along with other similar software systems from most other vehicle manufacturers.

Included:
DashBridge CX J2534 interface cable
CDROM with DashBridge CX drivers (drivers can also be downloaded here)
Technical Specifications:
• USB J2534 reflashing, diagnostics, & communication interface for CAN
• SAE J1962 connector
• Integrated USB cable with strain relief
• Supports the following vehicle network protocols:
◦ CAN on J1962 pins 6 & 14
◦ CAN 2.0B up to 1Mbps data rate
◦ J1939
◦ GMLAN
◦ ISO 14229
◦ ISO 15765
◦ ...and others
• Compatible with the J2534 API version 04.04
• Powerful USB 2.0 full-speed 12Mbps device to host interface
• Fully USB bus-powered
• Supports Windows XP, Vista, 7, 8, & 10
• J2534, J2534-1, and J2534-2 compliant PassThru device driver for Windows
Reviews