740 & 940 Volvo CNC Machined Aluminum Pedal Cover Kit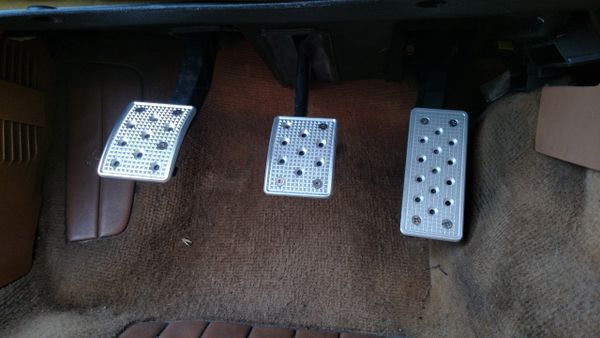 740 & 940 Volvo CNC Machined Aluminum Pedal Cover Kit
740 & 940 Volvo CNC Machined Aluminum Pedal Cover Kit
Brushed Aluminum Finish
Custom made CNC machined aluminum pedal covers to fit 740 and 940 Volvo's.
This is not a universal fit kit. This kit is specifically made to fit the 740 and 940 Volvo. It may also fit other Volvo models that use the same or similar pedal assemblies and/or pedal covers.
Description:
CNC machined from billet aluminum pedal covers with grid type friction surface

High grip pattern on the brake and clutch pedal covers
Medium grip pattern on the throttle pedal cover

Clutch and brake pedal covers replace the stock rubber cover (usually Volvo part # 1272021)
Throttle pedal cover goes over the stock pedal.
Includes mounting hardware
Easy installation.
Kit includes three pedal covers:
Pedal covers for the clutch, brake and throttle pedals.
Color/finish:
Bare brushed aluminum finish (PN: PSS-740PC-S)
Also available (in another listing):
High contrast black anodized finish with the holes machined after anodizing to show the bare aluminum (PN: PSS-740PC-B)

Supplied fasteners will also contrast with this finish
Tools required for installation:
Silver Sharpie or other similar marking pen
Spring loaded center punch or similar tool
Electric drill
1/16" and 3/16" drill bits
Phillips screw driver
9mm wrench
3/32" Allen key (included in kit)
Vacuum cleaner
Make sure to check the images to confirm your pedals and pedal covers look like the stock ones in the image labeled STOCK PEDALS (last image). Some Volvo models may use different pedal assemblies.
Reviews