Spal 17" high output DC brushless variable speed cooling fan & connector kit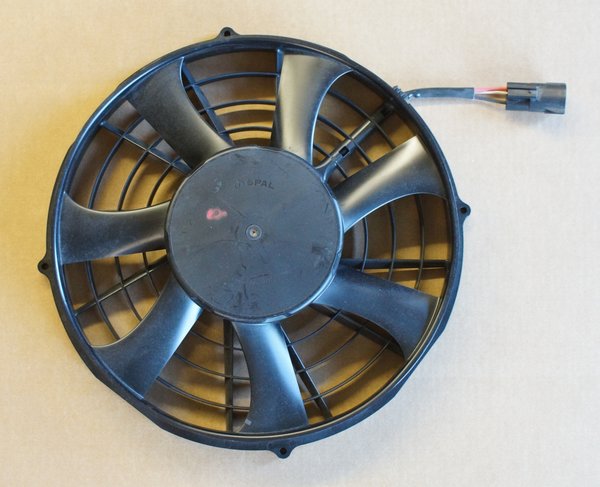 Spal 17" high output DC brushless variable speed cooling fan & connector kit
Spal 17" DC brushless fan and mating connector kit
New condition open box items from a canceled project. Never put into use.
Fans have been 100% tested to verify they are functioning properly.
High output Spal DC brushless 17" fan combined with Spal connector kit. Connector kit includes multiple sets of terminals and wire seals for use with a wide variety of wire sizes.
Retail / standard selling price for the fan and connector kit combined are over $400.
Manufacturer: Spal Automotive
Fan:
Part number: 30107035
Model #: VA97-ABL309-98A
Connector kit:
Part number: 30130628
Manufacturer's Description:
SPAL has developed a new generation of brushless motors with integrated electronics that are built to IP68 and IP6K9K ingress protection (TÜV certified). Our motors are fully protected against dust, water, saline, fog and chemical aggressions and provide superior performance and a longer life under all operating conditions. The VA97-ABL309-98A, 17" model features:
Features:
Drop-In Design Increases Shroud Strength
Full Variable Speed From 800 – 2800 RPM
Soft Start In All Conditions, No Electrical Inrush Spikes
Fan Performance Constant For Full Life, No Break In, No Degradation
Battery Voltage Compensation Offers Constant Controlled Fan Speed
-40°F to 240°F Ambient Operating Temperature Range (Includes De-Rating)
Sensorless Sine Wave Drive Design For Smooth Reliable Operation
Reduced Motor Depth & Weight While Increasing Performance vs. Comparable Brushed Motor Options
Self Protecting From Mechanical Overload Over/Under Temperature & Voltage
Condition:
New condition.
Open box items. No longer in Spal packaging.
100% tested to verify functionality.
Note:
The Spal DC brushless fans require a PWM control signal in order to turn on a control the fan speed. This signal can be provided by many OEM and aftermarket engine control modules (ECMs) or it can be provided by stand-alone controllers and sensors made by companies like Spal, Lingenfelter Performance Engineering and others. If you need help determining how to control these fans, please contact us.
Here is a link to a video example of how you might control the fan using an external controller.
Reviews